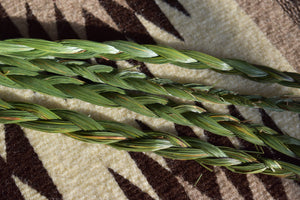 Native and Indigenous people regard Sweetgrass as a sacred plant which is often used in prayer, smudging and purifying ceremonies. When burned it does not produce an open flame but smolders. Just as the sweet scent is attractive to people, it is also attractive to good spirits and positive energies. 

Approximately 22-24" in length 
Small quantities available until next harvest
Grown in US and Canada
All proceeds go towards the United Indians' programs and services which support the urban Native community.