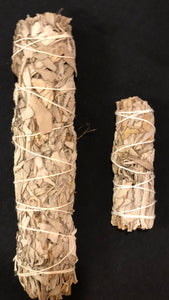 Research has shown that burning sage removes up to 94% of bacteria in the air. As Native people, we have known this for quite some time. It is a sacred medicine and is used in ceremonies as well as removing negative energies. Unlike chemical air "purifiers" that only mask the smells in the air, sage is 100% natural and will not cause allergic reactions for people with scent sensitivities.

9" X 1.75"
Approximately three ounces
All proceeds go towards the United Indians' programs and services which support the urban Native community.