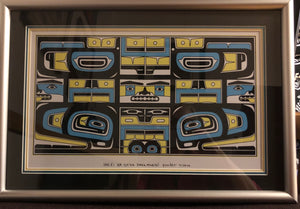 Focuses exclusively on working within the spirit and design style of the Northwest Coast practices and customs of ceremonial tattooing, wood carving, copper and abalone jewelry, painting and custom designing of regalia and tattoos.
Nahaan emulates the strong visual and oral storytelling that has been handed down from generation to generation. It's the foundation of his work; way of living; basis of his teaching cultural traditions.
Chilkat Killer Whale - is aligned with the traditional and prestigious weaving style known as "Chilkat" or "Naaaxein".  It's a version of the painted design on my grandmothers bentwood box.  Tlingit people are matrilineal not matriarchal. This means we follow our mothers and mothers mothers bloodline The Killer Whale is one of our primary crest designs.  Killer Whale is a limited edition print run of 32.