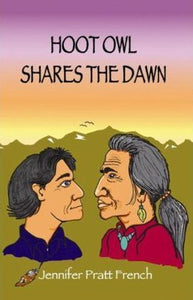 A jagged piece to a jigsaw puzzle, lost forever! That's how Johnny B. Falcon feels when he runs away from his oppressive home at the Moapa Indian Reservation, desperate to find something more. Johnny is confused, disgruntled and lonely, and acts out anger he has about his life's misfortunes and his poor self perception. He feels like a misfit, as he anxiously begins his emotional ventures to Las Vegas on board a cattle truck, in search of a normal life? Johnny meets the beautiful Lisa who helps him get a job in Las Vegas. But Johnny runs afoul of the law. Fortunately, however, he is sent to a progressive reform school, one which builds up his sense of self worth. There he meets a wise old janitor and former inmate, Hoot Owl, who shares with young Falcon an Indian secret that will change Johnny's and Lisa's life forever. Hoot Owl Shares the Dawn, a heart-warming adventure story written for the entire family, tells of Johnny's encounters throughout Nevada with Lisa, Gladys Tupperman, Dr. Lovejoy and Hoot Owl, all of whom serve as part of his new awakening?
Hoot Owl Shares the Dawn was a semifinalist and won Honorable Mention in the 2005 Independent Publishers Book Awards.
All proceeds go towards the United Indians' programs and services which support the urban Native community.