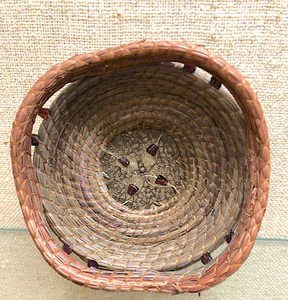 Hand made pine needle basket collection by Haida artist, Christine Wagner. This basket is woven with dyed natural pine needles of varying shades. In the centerc Christine has woven in an intricate metal piece and sprinkled natural garnet stones around the basket and center. The pine needles are natural and dyed, a process that takes 6 hours and is permanent. 
Approximately 4.5" in diameter x 2" deep
Made in Montana
All proceeds go towards the United Indians' programs and services which support the urban Native community.