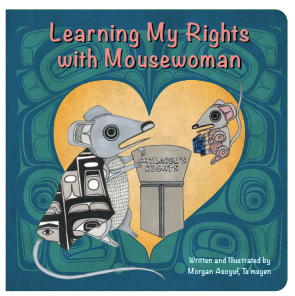 The tiny but mighty Mousewoman is a legendary figure in the oral and visual practices of Northwest Coast Indigenous cultures. She is both grandmother and oracle, able to travel in and out of the spirit world. Mousewoman sits on young people's shoulders in crucial times, whispering advice and knowledge. She protects and guides young people by helping them avoid or escape bad situations, and is never afraid to stand up to bigger beings. This book brings to life the timeless lessons of Mousewoman—lessons that embody the principles outlined in the UN Declaration on the Rights of the Child and the UN Declaration on the Rights of Indigenous Peoples.
6.5" x 6.5" board book
22 pages
All proceeds go towards the United Indians' programs and services which support the urban Native community.