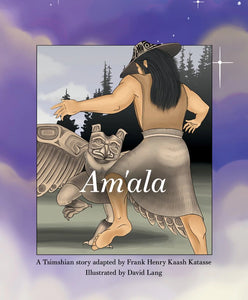 In this traditional Tsimshian story, a young man who is teased by his brothers for being lazy and dirty trains secretly with a spirit and gains superhuman strength.  He takes on warriors, animals, and even a mountain before facing his greatest challenge - the world itself. 
Frank Henry Kaash Katasse is an Alaska Native from the Tlingit Tsaagweidi Clan.  He is an actor, director, producer, improviser, educator, and playwright.  Frank received his bachelor's degree in theater arts from the University of Hawai'i: Manoa, and is formally trained in Shakespeare, Commedia dell'arte, and Northwest Coast song and dance.  His first full-length play, They Don't Talk Back, was produced as a rolling world premier with Native Voices at the Autry, Perseverance Theatre, and La jolla Playhouse in 2017.  He lives in Juneau with his wife, Stacey, and children Autumn and Kaash.  
Sealaska Heritage Institute's Award-Winning Raven Reads series releases new Raven Books. Raven Reads was awarded the 2017 Best Practices Honoree as part of the Library of Congress Literacy of Awards program.
8½" x 11" hardcover. 40 pages. Published October 2017.
All proceeds go towards the United Indians' programs and services which support the urban Native community.