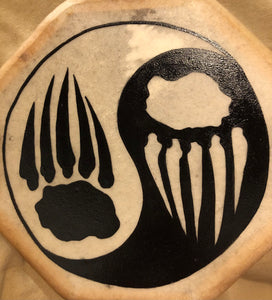 Sharon includes this message on her drums: "Come to the spirit of the drum". She always says a prayer before and after crafting her drums. This is a spiritual undertaking that she shares with people who attend her drum-making workshops. 
Handmade and painted Hand Drum by Sharon Byerly, Alaskan Aleut heritage
Made from cedar, deerskin and animal sinew (hide colors will vary)
Approximately 1.5" height and 10" in diameter
Signed by Sharon 
All proceeds go towards the United Indians' programs and services which support the urban Native community.