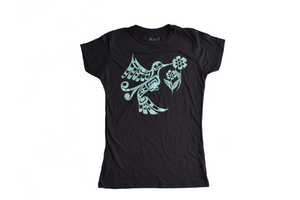 "Hummingbirds teach us to appreciate the miracle of life and the need to focus on renewal and positivity". This design is by Francis Dick, Kwawaka'wakw. 
Lightweight and soft, 50% cotton and 50% polyester

These shirts are snug fitting if you prefer a looser fit, order up one size

Pale Turquoise ink print on black

Printed in Canada
All proceeds go towards the United Indians' programs and services which support the urban Native community.