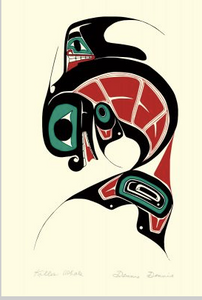 A self-taught artist born in Port Essington, B.C., Danny Dennis is one of the rare Northwest Coast artists who produces original paintings.
Born in 1951, Danny began his artistic career in 1978, also working in the mediums of gold, silver and ivory as well as silkscreen prints. Inspired by master artists Francis Williams and Robert Davidson, Danny has exhibited in Germany as well as many Canadian galleries
Measure 24" x 29"
Double matted with black composite frame
Numbered and limited edition
Please allow 2-3 weeks for shipping

 All proceeds go towards the United Indians' programs and services which support the urban Native community.