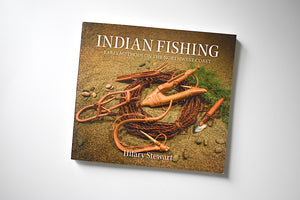 Hilary Stewart gathered material from museum archives, fish camps, and coastal village elders to document the Native heritage of handmade hooks, lines, sinkers, lures, floats, clubs, spears, harpoons, nets, traps, rakes, gaffs, and more. With more than 300 clear and detailed drawings, she illustrated how these tools were made and used. She twisted cedar bark and nettle fibers into cod fishing lines, and steam-bent a stem of yew into a halibut hook. Here, reprinted in full, is her original work, covering everything from how the catch was butchered, cooked, and preserved, to the prayers and ceremonies in gratitude to the fish, as well as customs and taboos that demonstrated the peoples' respect for this life-giving resource. 
Soft cover
192 Pages, 10 x 9 in, 450 b&w drawings, 75 b&w photographs
All proceeds go towards the United Indians' programs and services which support the urban Native community.