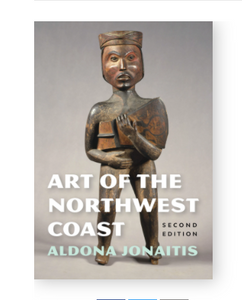 Art of the Northwest Coast offers an expansive history of this great tradition, from the earliest known works to those made at the beginning of the twenty-first century. Although non-Natives often claimed that First Nations cultures were disappearing, Northwest Coast Native people continued to make art during the painful era of colonization, often subtly expressing resistance to their oppressors and demonstrating the resilience of their heritage. Integrating the art's development with historical events following contact with Euro-Americans sheds light on the creativity of artists as they appropriated and transformed foreign elements into uniquely Indigenous statements. 
Soft cover

416 Pages, 6.75 x 9.75 in, 181 color illus.
All proceeds go towards the United Indians' programs and services which support the urban Native community.